This weekend, my husband Aaron and I, along with our good friends Brittany and Kevin, headed to Illinois for the Jubilee Challenge. The race flyer had the expert women racing the same distance as the men, 24 miles! With the longer distance and hot weather, we decided to pre-ride just a portion of the course
.
The first section was super-fast and flowy doubletrack, and the following singletrack section had a bunch of log overs. I'm usually not a fan of double track (or tall logs!), but this was really fun and made me excited to ride the whole course. I made it over all the logs in the pre-ride, so that made me feel confident for the race.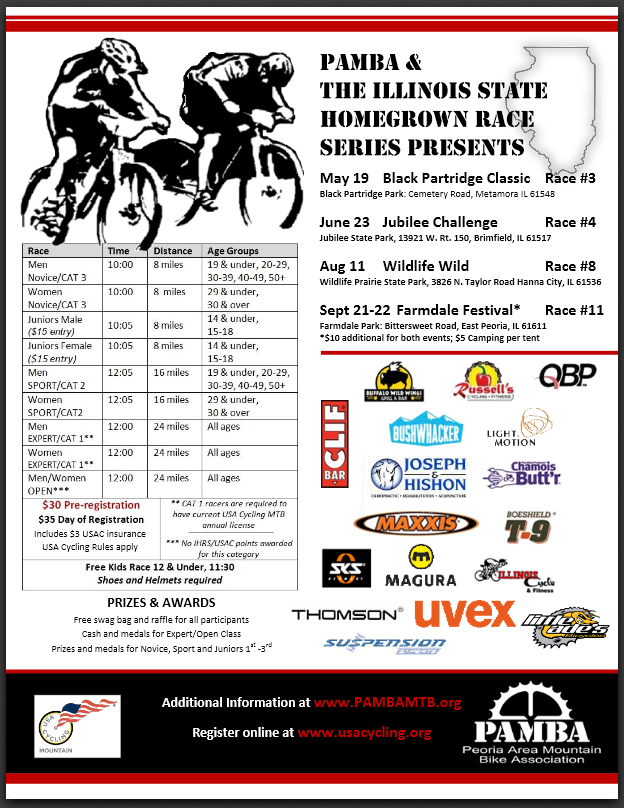 The race started on the road, and I was second into the single/double track, with Brittany in the lead. I wasn't riding quite as well, and she had a gap by the time we got to the log trail. Once we made it to the first long climb, I could still see her, but she was already at the top of the climb (Britt, your climbing abilities amaze me, I'm stilling waiting for you to teach me your secrets!).
I mistakenly thought last week's race in Wisconsin had brutal climbs. I was wrong.
This
race had brutal climbs. They were steep, eroded, muddy, long, and too numerous to count. I carried as much momentum into the climbs as I could, shifted into my easiest gear and spun my way up. I may have had a few (or a lot) of mental conversations with myself, saying "you can do this, keep pedaling!" or even a "nice job" after something tough… I can't be the only one that does this, right?!
Ok, so I may just be a little weird!
I didn't make it up all of them though, and had to walk a few portions of the climbs after having my rear wheel slip on roots or rocks. But, there were plenty of instances where I was able to catch up to, and pass guys on the climbs when they couldn't make it up and I was able to ride all the way to the top.
Photo by Amy Thaller
Going into the 3
rd
and final lap my stomach started growling, I may need to eat a little more beforehand next time! At least I had plenty of water. The race organizers deserve a huge thanks for having three water stations on the course. Nice cold water was exactly what I needed out there.
After over 2 ½ hours of racing, I finally crossed the finish line and promptly started dumping water on myself to cool down. The temp was in the 90's and it was very humid.
This race definitely felt a little more like an endurance race than a cross country race!
As soon as I cooled down and changed out of my kit, we could tell a huge storm was rolling in. The podium ceremony finished just time as it started lightning, and the pouring rain came just a few minutes later. The temp dropped from 93 to 70 in less than ½ hour, it was pretty crazy!
Again, the Iowa City Cycling Club/Mercy Specialized team had a great showing and we all made the podium!
Brittany McConnell – 1st Women's Expert
Emily Robnett – 2nd Women's Expert
Kevin McConnell – 1st Expert Men
Aaron Robnett – 3rd Expert Men